Home : Blog : Meet the Platform
Produzindo Certo: A Hands-On AgTech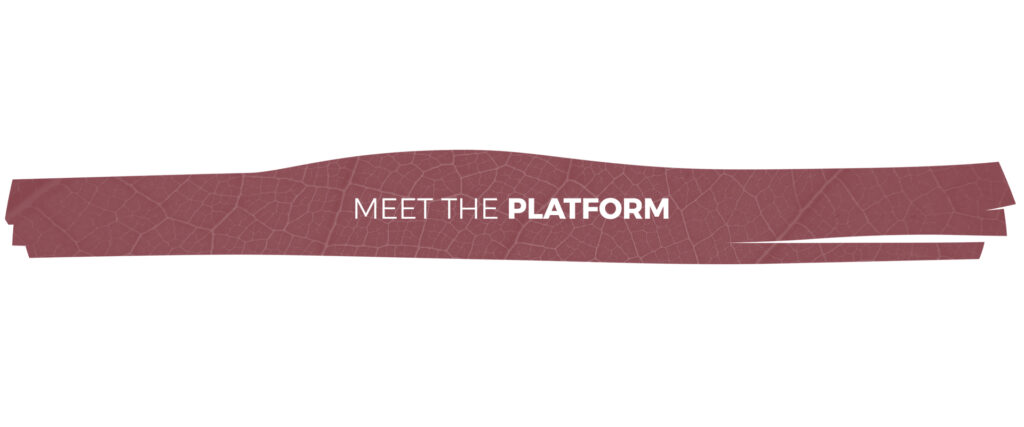 The new Produzindo Certo's digital platform automates processes and provides greater transparency to the relationship between producers and companies, becoming a type of AgTech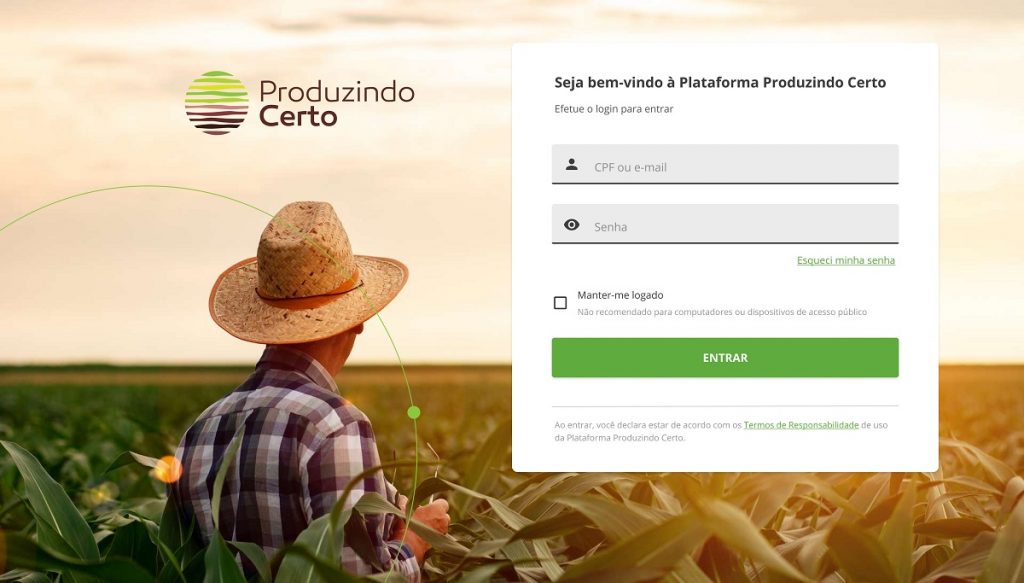 One of the main differentiators of Produzindo Certo in its work with rural producers is its presence in the field. In 2019, for example, the company's team made more than 300 technical visits to farms across Brazil, traveling more than 85,000 kilometers in its mission to analyze the social and environmental conditions of the properties and provide technical assistance so they can make the necessary modifications to be in line with best production practices.
The on-site assessment by Produzindo Certo technicians is essential in determining each of the more than 70 indicators used to evaluate each farm. At the start of the second half of this year, they gained a technological ally in this mission: Produzindo Certo launched a new digital platform, an AgTech, which will automate much of the verification processes, in addition to offering greater data transparency and remote monitoring providing real-time information to registered producers and companies.
With this new tool, Produzindo Certo becomes a type of AgTech, as technology companies that focus on agribusiness are called. But with our hands-on approach, visits to properties and the close relationship with producers will be maintained.
To better understand the needs of system users and provide the information they need, the development of the digital platform included an analysis of the journey of Produzindo Certo analysts, responsible for evaluating properties and updating information on the platform, on client companies, which need information about their supply chain, and on rural producers, who will have access to their social and environmental assessment and will be able to update the information as they evolve in their practices.
Accessible via computers and mobile devices, online and offline, the platform allows generating instant reports on social and environmental performance considering all indicators evaluated or seeking specific information on one of the areas analyzed. The system can also generate automatic alerts in case of any changes in the status of any item evaluated.
Check out the main functionalities of the platform: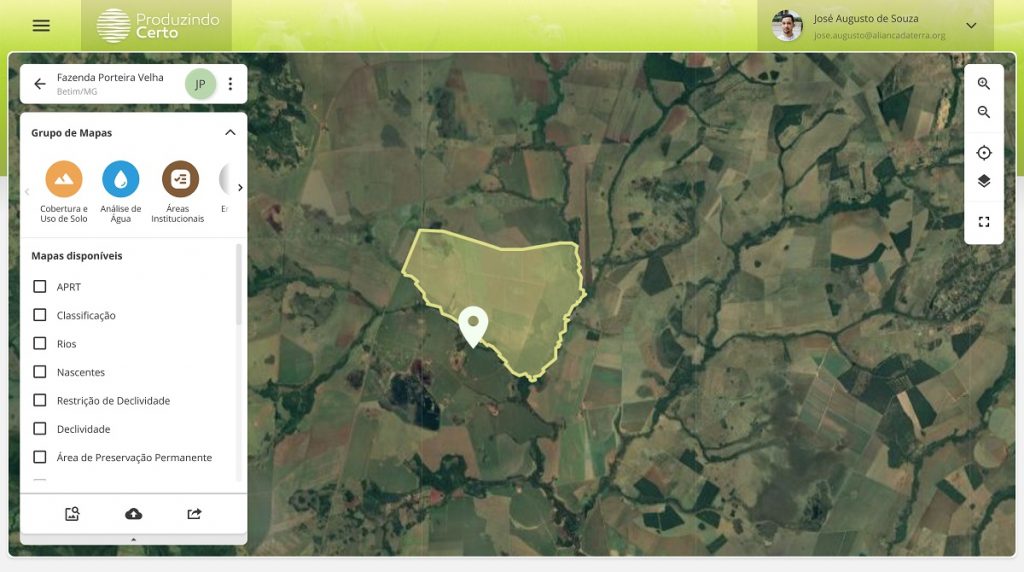 Management Support
Easy to use and intuitive, the platform contains the most important information on the properties evaluated. Users can generate and print reports containing essential information.
Dashboard
Maps
Checklists and protocols
Score of the property
Automatic alerts issued in case of change of status in the items monitored
Geolocation (access to maps to consult on water analysis, land use and cover, permanent preservation areas, property limits, etc.)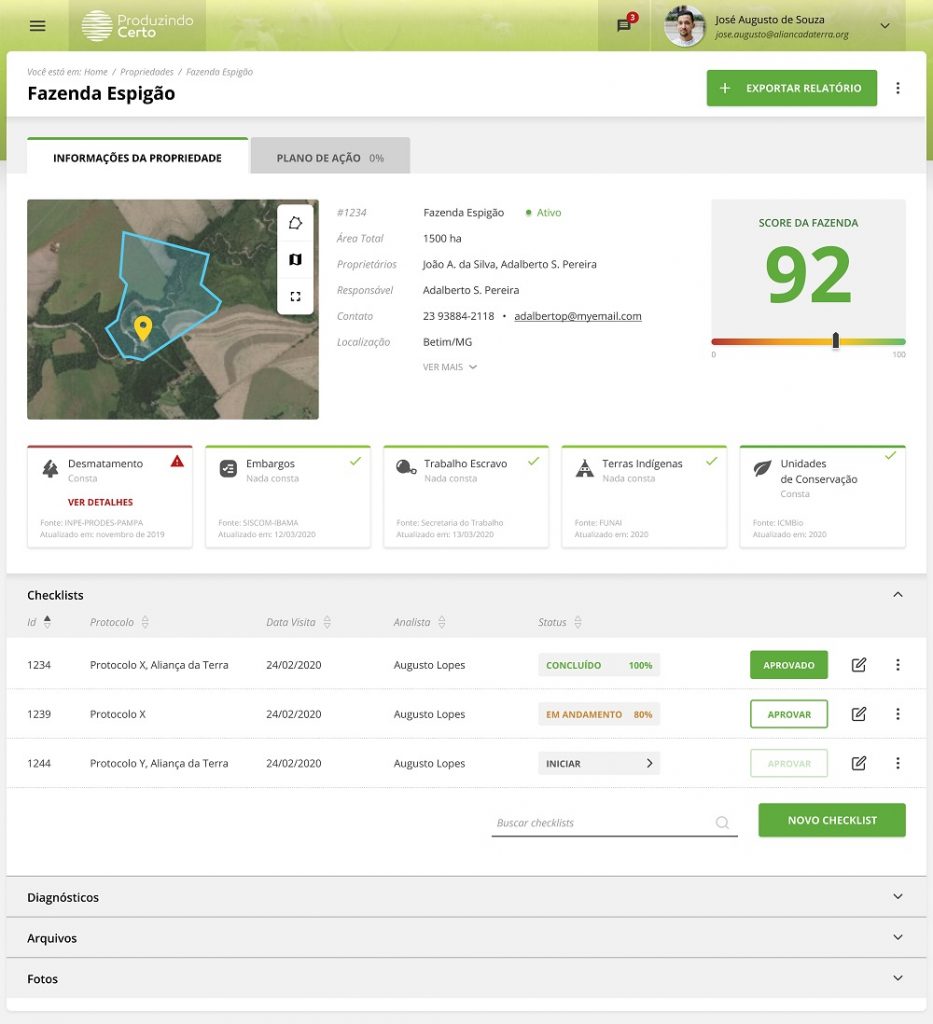 Updated Information
Based on monitoring by the different public sources, data is updated in real time, and the application always has the latest information available.
Heat maps
Areas embargoed for environmental or social issues
Newly deforested areas
Producers receive alerts on license expiration and other information
Different User Profiles
The mapping of the journey of various user profiles on the platform clearly defined the grouping of content and interactions that should be made available to each one, facilitating usability.
Produzindo Certo analysts
Purchasing companies
Rural producers*
End consumers*
*Under development
---
Publicado em 19/11/2020.
Continue lendo as matérias abaixo...