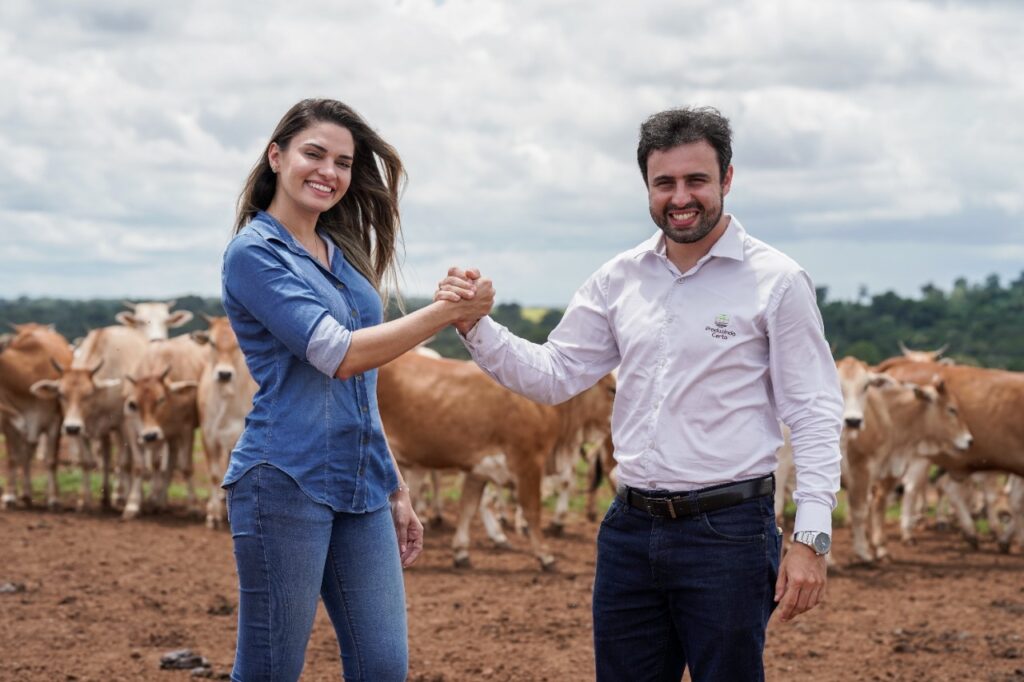 Project that brings together Brazilian livestock farmers and fashion companies completes its first year with improvements in the properties. The results are showcased at an event in the U.S.
Develop a responsible global leather credit market and, thus, create value for livestock farmers with a material that is often discarded. And, at the same time, be an example of sustainability in the fashion industry, which is constantly pressured by consumers and environmental entities concerned with the origin of its raw materials and animal welfare.
These are the main goals of a pilot project for the coordination of the leather chain with Brazilian producers, which is being led by Produzindo Certo and Textile Exchange, a global non-profit organization driving positive impact on topics related to climate change across leading textile and fashion companies, with the support of international giants, through the Leather Impact Accelerator initiative.
The first results of the initiative will be presented on Thursday, November 17, in Colorado Springs, USA, during the 2022 Textile Exchange Conference. The Sustainable Leather project, which is already supported by companies such as the Swedish brand H&M Group, will be highlighted in one of the panels of the conference, which will be attended by Charton Locks, COO at Produzindo Certo. Charton will share the panel "The Brand & Producer Connection" with Ralph Lauren's Sustainability Lead, Samantha Fahrbach. Anne Gillespie, Director of Leather Impact Accelerator, will be the moderator.
During the event, the idea is to present the pilot project as a solution to other fashion companies that are also concerned about the origin of the leather they use. "Through the project, fashion companies pay producers to invest in adjustments, obtain animal welfare certification, and avoid deforestation on their properties. In return, the brands can communicate to society that they are contributing to a responsible leather production in important biomes, such as the Amazon and the Brazilian Cerrado," explains Locks.
First results
Field work under the Sustainable Leather project began in January, with visits of Produzindo Certo technicians to five select farms. "We went to the properties to evaluate both sustainability and performance in order to reach the level required for animal welfare certification," says Locks.
After this stage involving analyses and technical advisory, livestock farmers began to invest in adapting their farms to obtain certification. One of the actions taken, for example, was to remodel the pens to reduce the chances of injuring the animals during handling. Ranchers also received training on how to adopt rational management from the time the animals are born until they are transported off the farm. They also improved management tools and made other upgrades.
"We added shade to the feedlot pens, we built a new corral to improve animal and human welfare to provide better working conditions. We are also investing heavily in drinking water from artesian wells by building artificial reservoirs and troughs to prevent the cattle from going to springs or reservoirs to drink water," says Thiago Fabris, from Agropecuária Jatobá, in Paranatinga (MT), one of the five properties participating in the project.
Next steps
In addition to investments in animal welfare, producers have invested in other sustainability actions, such as the purchase of firefighting equipment, implementation of firebreaks and bio-fertilizer plants to reuse waste from the corrals, and techniques for digging water pits for soil conservation.
Recently, the livestock farmers selected for the project underwent a second technical inspection. Based on this inspection, they are receiving guidance to address the points that are still pending on the farms and, thus, be eligible to receive the level of certification required by the program.
A new audit is scheduled for next January and producers should receive new financial support so they can continue to make improvements to their farms. It is expected that they will be ready for an animal welfare certification audit between the end of 2023 and the beginning of 2024. "We are confident that we will succeed in getting all five farms certified. We are also working to expand the project by including new farms and bringing in more fashion companies," adds the director of Produzindo Certo.
Meet the farms participating in the project:
Farm: Grupo Morena
Location: Campo Novo do Parecis – MT
Farm area: 13,599 ha
Protected forest area: 2,469 ha
Deforestation in the last year: 0 ha
Herd involved: 4,349
Improvements in the 1st year: Acquisition of firefighting equipment, site for animal burial, suspension of the use of electric cattle prods.
Farm: Globo
Location: Sapezal – MT
Farm area: 12,011 ha
Protected forest area: 3,996 ha
Deforestation in the last year: 0 ha
Herd involved: 4,271
Improvements in the 1st year: Anti-stress corral, training in animal welfare, and Solid Waste Management Plan.
Farm: Paraná
Location: Barra do Garças – MT
Farm area: 31,923 ha
Protected forest area: 19,087 ha
Deforestation in the last year: 0 ha
Herd involved: 24,493
Improvements made in the 1st year: Firebreaks, erosion control, and firefighting equipment. Anti-stress corral and cafeteria under construction.
Farm: Uvá
Location: Goiás-GO
Farm area: 10,897 ha
Protected forest area: 4,435 ha
Deforestation in the last year: 0 ha
Herd involved: 10,530
Improvements in the 1st year: Anti-stress corral, firebreaks, training in animal welfare, and suspension of the use of electric prods in animals.
Farm: Jatobá
Location: Paranatinga-MT
Farm area: 20,449 ha
Protected forest area: 13,356 ha
Herd involved: 5,568
Improvements in the 1st year: New corral, training in animal welfare, water reservoir under construction, recovery of 700 ha of pastures, planting of eucalyptus and neem trees.